Cleaning out closets, emptying drawers, wiping down baseboards. Spring cleaning tasks often focus on the indoors. However, taking time to improve your outdoor living space will pay dividends come Memorial Day weekend (or earlier).
From tending to perennials to dressing up your yard, you can get a jumpstart on your outdoor maintenance. And by tackling projects in April, you will be able to fully enjoy your space when warm weather moves in for an extended stay.
April is also a good time for hot tub owners to tackle seasonal maintenance. After a winter of soaking away the cold, you can prepare your spa for summer nights with friends or sunrise soaks.
As you are preparing your backyard for spring and summer, there's one thing to remember: take each project one step at a time. The goal is to create a space you enjoy and love — not feel overwhelmed in the process.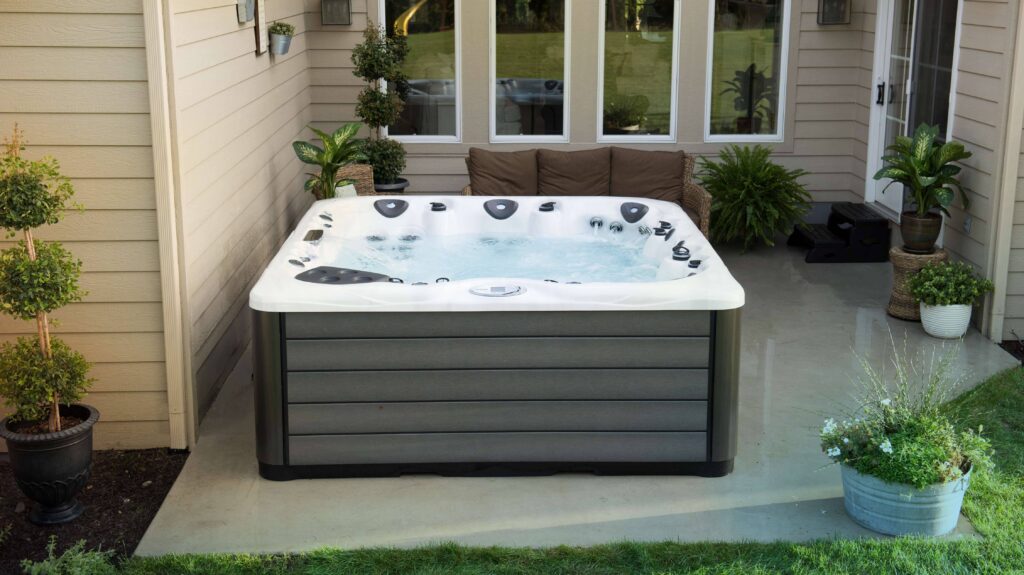 April Checklist for Hot Tub Owners
April is an ideal time for taking advantage of the warmer weather and prep your yard for summer fun. These tasks will help you tackle routine hot tub maintenance, refresh your patio, and get your garden ready.
Your April checklist should include the following:
Concrete and patio maintenance
Test hose and spigot
Drain and refill your hot tub
Remove leaves and debris
Power wash home
Inspect outdoor furniture
Clean patio doors and windows
Clean Hot Tub Skirting
Dress up patio
Tend to perennials
Preventative weed care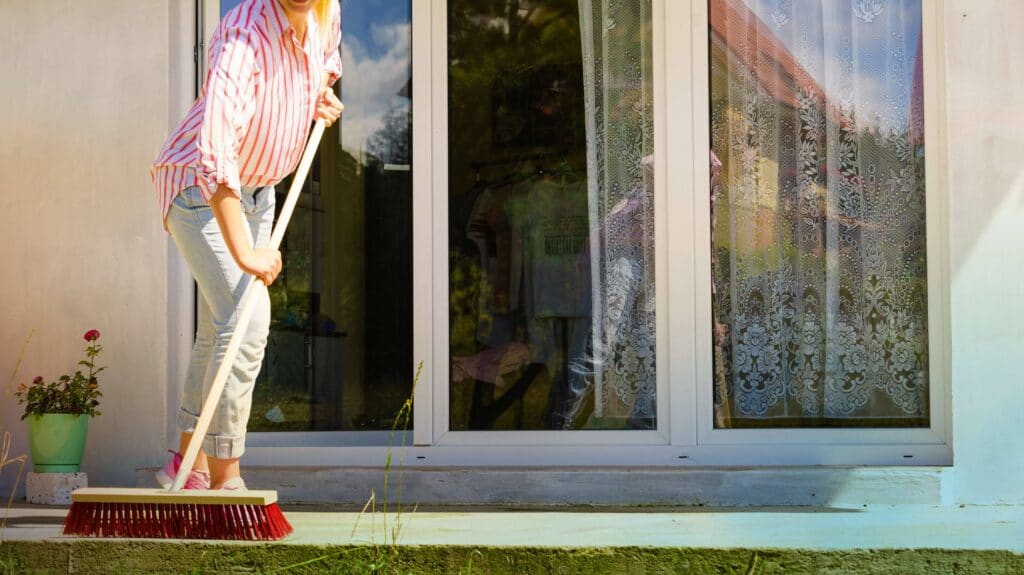 Spring cleaning for hot tub owners
Spring is the perfect season to give your patio and hot tub area a refresh. Whether you need to do a deep clean or just spruce up the space, taking time to spring clean your hot tub will make sure you can fully enjoy your spa. 
Scan concrete pad and patio
Whether you have a pavers or concrete pad, the first thing you should do this spring is to sweep your patio. It's also a good idea to give it a good power wash so you can take a good look at it. Depending on where you live, the freeze and thaw cycle can stress the concrete. Check the concrete for any stains, damage, or cracks. If you have a crack wider than a nickel, have a contractor inspect your pad.
Master Spas recommends that owners install their hot tub on a reinforced concrete base. A properly installed pad, which is reinforced and maintained, can last a long, long time. Think 50 years or more.
Learn more about how to plan for your hot tub installation and download our Backyard Planning Guide.
Test hose and spigot
Your outdoor living space requires water — whether it's to nourish your plants or to clean the pavers. Before you tackle your April checklist be sure that everything is in working order. Test your spigot and look to see if there's any damage to your hoses.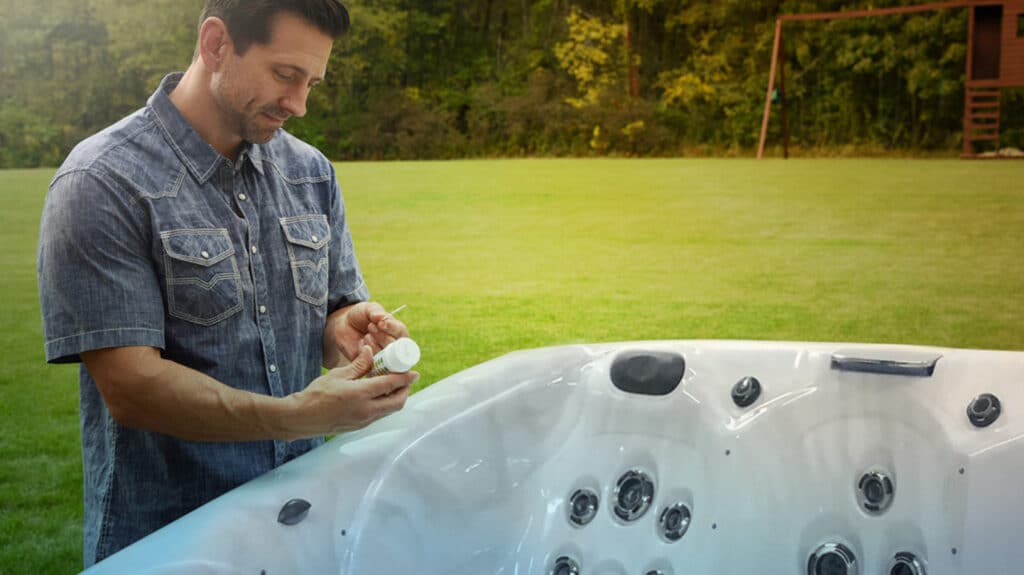 Drain and refill your hot tub
When was the last time you drained your hot tub? If it was more than six months ago, it's a good idea to drain and refill your hot tub. Why? Water can only "hold" so much. At a certain point, the chemicals will not be able to do their job. Old hot tub water will be harder to keep clear and clean. Draining your hot tub and refilling it will make sure you are soaking safely.
Master Spas recommends draining your hot tub every six months. Spas feature an internal drain to make the process easier or you can also use a submersible pump.
Related post: How to Drain a Hot Tub
Replace EcoPur Filter
Your filter is a key component of your hot tub. It helps keep the water clean and clear, catching debris like leaves and other contaminants. But the filter can't do its job forever. Whether you use your hot tub every day or once a week, it's important to replace your filters once a year. In addition, the EcoPur filter core should be replaced every six months. Spring is the perfect time to replace these components so that you can maintain your water quality.
Remove leaves and debris 
Leaves can be a great way to mulch your gardens and flower beds in the fall. But as you tackle your April checklist, make time to rake up the leaves and prepare your garden for the season. You can also remove any other debris from the beds. Be sure to wait until the daytime temperature is in the 50s, as the leaves do protect perennials.
Power wash home
Dirt and mold can build up on the siding of your home over time. Giving your siding a good power wash can not only improve your home's curb appeal but it will improve the appearance of your backyard, too. If you have never used a pressure washer, be sure to wear eye protection and old clothes. You might be cleaning your siding but it's a messy job! It's also important to stand at least 18 inches away from your home to protect the siding.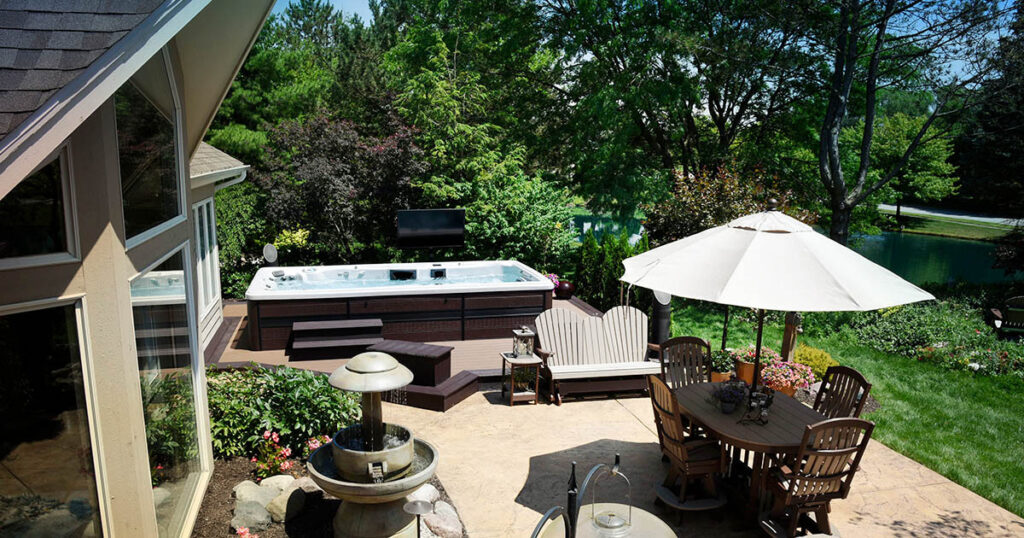 Outdoor furniture
Patio furniture is just as much an investment as your indoor pieces. With proper care, it should last season after season. But as you tackle your April checklist, it's a good idea to give your patio furniture the once-over to make sure it's ready for summer. Depending on the material, you should look for rust or corrosion (stainless steel), any cracks or splintering (wood), and mold (fabric cushions). You can also give your furniture new life with stain or fresh cushions, starting the season in style.
Clean patio doors and windows
Are you ready to feel a warm, gentle breeze as you cook dinner? There's nothing like fresh air circulating through the house to make it feel like spring. Emphasis on "fresh." Before you open up the house, you should remove screens and clean them. All you need is a mild detergent and soft brush. As you wash, check to see whether any screens need to be replaced. Rinse with a hose, let dry, and put back in place.
Clean hot tub skirting
Make your hot tub the star of your backyard by keeping it in tip-top shape. An easy way to keep your hot tub looking its best is to clean the skirting. Your Master Spa has a durable, weather-resistant cabinet that's easy to maintain. Simply rinse it off with your garden hose. If necessary, you can use a mild soap and water with soft cloth to wipe down the cabinet surface. Be sure to rinse thoroughly.
Related Post: One-Day Backyard Projects
Dress up patio
The fun part — decorating! You want to make your outdoor space inviting and comfortable. Make sure you have a spot where you can enjoy a cup of coffee or chill out after a soak in your hot tub. Planters with colorful annuals, outdoor curtains, and string lights are among the ways that you can refresh your space.
Related post: Backyard Design Trends for 2021
Tend to perennials
Perennials flowers create a beautiful garden year after year with less maintenance. As you prep your yard for summer, cut back perennial stems like Russian sage and clean up any dead brush.
Preventative weed care
There might not be anything more frustrating than to see dandelion after dandelion pop up between your pavers. To keep weeds from germinating, apply a herbicide like Preen. You can apply the product to your pavers and gravel areas that might be surrounding your hot tub.
How to buy a hot tub
Are you ready to transform your vacation rental into an oasis? A Master Spas hot tub can help guests relax and unwind while staying at your vacation rental. You can click here to discover our secrets to creating a backyard oasis. Or, contact your local Master Spas retailer to learn more about swim spa ownership. Wondering how much a hot tub costs? You can request a quote here.